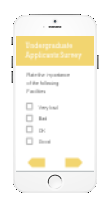 During 2015, we have seen survey respondents increasingly using mobile devices to answer web questionnaires.
On average, 1 in 5 surveys today are completed on a mobile device.
Our Adaptive Questionnaire feature allows us to present a version of your survey suitable for the device on which it's being viewed.
Our question layouts adapt to suit screen size, can show specific questions, and apply unique routing rules for each device type. Thus, the respondent experience is optimized. Accordingly, our clients enjoy higher response rates and fewer sessions are abandoned.  With higher engagements natually better outcomes. Read more about our Mobile surveys on our Services page.